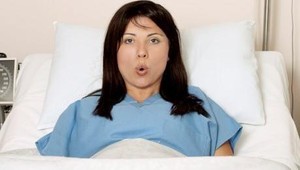 Maternity normally generally be the desires of most pregnant women.But what about those who are diagnosed with placenta accreta during pregnancy, they can give birth naturally?
According to Dr. Khanisyah Erza Gumilar, SpOG or dr Erza, placenta accreta is an abnormality in the condition of the placenta where it attaches or even through the wall of the uterus.If the placenta is attached to and penetrates too deep, it is difficult to remove.
"Well, on that basis, then pregnant women with placenta accreta can not lead a normal delivery," said a specialist in obstetrics and gynecology from the Division Fetomaternal RSU Dr Soetomo and the Airlangga University teaching hospital todetikHealth.
Read also: Considered Harmful, Up Current Causes of placenta accreta Still Mystery
Therefore, the patient had to undergo delivery by cesarean section method.The right time for surgery is when the age of the fetus is viable enough alias month.
"In most cases, the fetus was born at the gestational age of 34 weeks. This course is based on the ability of NICU (Neonatal Intensive Care Unit -Red-) local," he added.
To be sure, placenta accreta included in the category of very high-risk pregnancies.Complications so severe that it should be referred to a tertiary level hospital for more comprehensive treatment.
Dr. Erza also added that the case of placenta accreta would be much better if it can be handled by some specialists as an obstetrician (consultant Fetomaternal and oncology if any), a specialist anesthetist, a specialist ediatri (consultant neonatologist), specialist urology and medical specialists surgical (consultant digestif).
"In addition, patients with placenta accreta cases also require ICU and NICU, installation readiness blood bank 24 hours and operating rooms are ready 24 hours with a fast response time. All of these are generally only found in tertiary level hospitals," explained Dr. Erza.