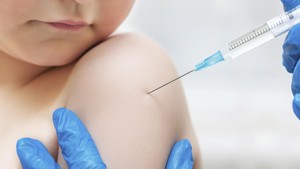 Bandung- Do not let your child susceptible to pneumonia.For the Indonesian Pediatric Association (IDAI) recommends the vaccine, including pneumococcal conjugate vaccine (PCV) to prevent pneumonia in children.This vaccine can fight any kind of disease that is triggered or pneumococcal bacteria Streptococcus pneumoniae
"The right of every child to receive the vaccination needed in his life. Immunization is the basis of the most powerful in the public health system. The question is whether it can be prevented? Of course you can," said Dr. Nastiti Kaswandani, SpA (K), Chairman of the UKK Respilogi PP IDAI, Indonesi when found in the Warnings Pneumonia in hitel Crown, Bandung, Saturday (11/26/2016).
PCV vaccine currently exists that is referred to as PCV-10 and PCV-13.The difference is the number of strains of bacteria contained therein.PCV-10 protects children against 10 types of Streptococcus pneumoniae, a bacterium that can cause all sorts of diseases including meningitis, pneumonia, ear infections, blood infections, and even death.PCV-13 protects against 13 types of Streptococcus pneumoniae.
The vaccine is given as much as four times in children aged 2, 4, 6, and 12 to 15 months to protect children from germs known as pneumococcal bacteria.
In addition to PVC, the measles vaccine can also reduce the incidence of pneumonia.Whooping cough, or pertussis vaccine in the DPT vaccine can also be given to reduce the risk of pneumonia.
DPT or DTP is a mixture of three vaccines is to prevent diphtheria (which attacks the throat), pertussis (whooping cough), and tetanus (infection due to injuries that cause seizures).Vaccine Haemophilus influenzae type B (Hib) can reduce the risk of pneumonia.
According to Dr. Nastiti distributing vaccine to prevent pneumonia increased in the last year.Figures vaccine use in Indonesia reached 51 percent.
Prevention can be started from early detection of pneumonia symptoms and treatment delivery is fast and precise."Prevention, early detection and appropriate treatment can reduce mortality due to pneumonia," he said.
Read also: Important! Children who Kena Kena Smoke More Vulnerable Pneumonia
According to him, access to health care and availability of drugs, as well as oxygen is essential.This challenge requires more attention from the government in an effort to lower infant mortality rate.
"Providing balanced nutrition, exclusive breastfeeding, avoid exposure to cigarette smoke, zinc supplementation in diarrhea, and preventing HIV," he said.
Pneumonia is still a problem in Indonesia.Dr. Nastiti also mention the air has an important role in the spread of pneumonia.
"If the air quality deployment may not be suppressed, but the dirty air is one of the deployments that have an important role. In a room such as in elevators we're carrying a child may be there is no trace of a sneeze or cough," he explained.