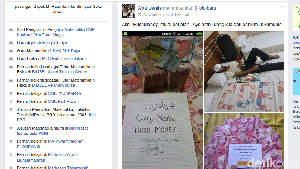 Tim Cyber Crime Sub-Directorate of Economic Crime Directorate and the Special Criminal Investigation Police reveal about money is photographed by the suspect spreader rush the issue of money, AR.The money was a student at the school tuition fees, AR.
"He wrote, 'this money runs out I pulled'. It was not the money from the bank. That's tuition, she is a teacher, the tuition money children's activities for at school he was," said Director Tipideksus Brigadier General Setya when contacted by AFP, Sunday (27/11/2016).
Agung said, AR or Abu Uwais (31) has only one account is at Bank DKI.The account to receive payment of salaries AR as a teacher at a vocational school in Pluit, North Jakarta.
Agung added several accounts in the AR display image and then uploaded to Facebook was not an account belonging to AR.However, the Court has not revealed how much money is in an account belonging to the AR.
"He does not have an account in BCA, right in the picture there are BCA and other banks, though it is not an account of him. Then he wrote, 'I attract this money runs out'. It was not the money from the bank," he said.
In line with the Court, the Head of Public Relations Division Inspector General of Police Amar Joey Boy, also can not disclose the amount of money possessed the AR in its account.Therefore, the police are still steeped in this case.
"We can not said (the amount of money in the account AR)" Boy said when contacted separately.
Vocational teachers in Pluit, North Jakarta is snared criminal Law on Information and Electronic Transactions (ITE) because of its status which invites people together to withdraw money.
When jumpe press at Police Headquarters, Jalan Trunojoyo, Kebayoran Baru, South Jakarta, Saturday (26/11), Inspector General told reporters Boy also shows the Facebook page prints Abu Uwais.There looks, Abu Uwais showed a row of denomination of Rp 100 thousand and Rp 50 thousand.Monies are arranged on a mattress into a written form of action related to December 2.