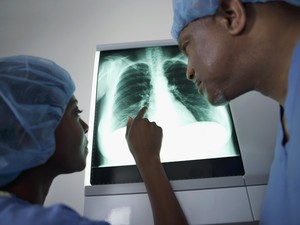 Bandung- Parents who have young children under 5 years of age must be responsive if babies suffering from pneumonia.Because pneumonia is the number 1 killer in the world toddler.So what are the signs of children under five are pneumonia?
"The sign is an increase in respiratory rate, so that the child looked crowded. On the chest area appear retraction or pull of the lower chest wall setiao breaths," says Subdivision Section Respirology Pediatrics Hasan Sadikin Bandung, Dr. Sri Sudarwati SpA, in commemoration of World Pneumonia Day on Crown Hotel Bandung, Saturday (11/26/2016).
Dr. Sri continue, other signs are tachypnea namely rapid breathing.This is an important sign of pneumonia.He said the public should recognize early warning signs of pneumonia this by counting the respiratory rate toddlers for 1 minute.
"Limitation of rapid respiratory rate in infants less than 2 months is more / equal to 60 times per minute, in infants 2 to 12 months is 50 times per minute. While the age of 1-5 years is 40 times per minute," explained Dr. Sri.
Read also: More Than 800 Thousand Indonesian Child Pneumonia Esophageal Throughout 2016
http://health.detik.com/read/2016/11/26 /132007/3355324/1301/lebih-dari-800- ribu-anak-indonesia-terserang- pneumonia-sepanjang-2016
In addition because of tachypnea and retraction, toddlers who experience worsening of symptoms characterized by anxiety, not eating or drinking, seizures or cyanosis (bluish lips) and even loss of consciousness.
"Severe pneumonia such as coughing or shortness naoas accompanied one such retraction of the chest wall and grunting or moaning," he explained.
If some of these signs experienced by infants, it should immediately get medical attention.
"Examine the patient's oxygen saturation terhadal and do chest X-ray if it is possible," said Dr. Sri.
Dr. Sri added, so far to overcome the pneumonia there are three main steps initiated by the World Health Organization (WHO) that provide protection in young children, the prevention of pneumonia and pneumonia proper governance.
"Protection is intended to provide a healthy living environment for young children. What is it like adequate nutrition, exclusive breastfeeding until the baby is 6 months old and breathing air that is free of pollutants such as cigarette smoke, fumes, factory smoke," he said.
Exclusive breastfeeding, said Dr. Sri, can reduce the incidence of pneumonia in children under five by 20 percent.