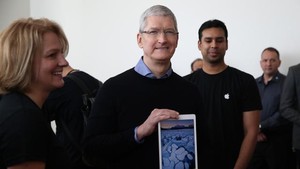 Apple will release the iPad has the latest screen size, which is 10.5 inches.If true, it will complement the range of the previous iPad has a screen of 7.9 inch, 9.7 inch and 12.9 inch.
Asquotedby Digitimes,Sunday (11/26/2016), this new iPad seems to be targeted to consumers in the field of enterprise, education, and a number of other sectors.
Consumers in the sector called regard ipad too small 9.7-inch and 12.9-inch iPad Pro is too big and expensive.This factor that supposedly makes Apple's need to fill these gaps.
10.5 inch iPad will use a processor is called A10X, which is also used in the iPad Pro 12.9 inch.The launch will be done in conjunction with another version of the iPad, which will begin production in December.
This means that the launch of the new iPad is likely to occur at the beginning of 2017, between January and March.If the viewing habits of Apple in launching new products, the possibility of the launch event will take place in March 2017.
This is not the first time rumors of a 10.5 inch iPad appeared, in August, named KGI analyst Ming Chi Kuo also refer to the same information.
He also called the iPad with a new OLED display will be available in 2018, in contrast to what he called iPhone will use an OLED display in 2017.