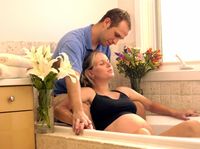 One of the reasons a water birth is not widely practiced in Indonesia is still questionable safety standards.The reason, the method is minimal research.In addition, water birth techniques are also not included in the medical curriculum.One gynecologist and obstetrics was proposed that a study be held together.
As stated by the Chairman of Reproductive Endocrinology Fertility Society of Obstetrics and Gynecology Indonesia (POGI), Dr. Andon Hestiantoro, SpOG (K) some time ago to detikHealth, until now POGI still does not give advice on water birth method."This is because there is no enough research about their safety," said Dr. Andon.
According to Dr. Andon, POGI study results indicate there is no sufficient evidence that water birth provides the benefits as widely discussed in public.
Read also: The word Doctor About Infection Risks and Infant Drowning in Water Birth
In response to this, the Chairman of Indonesian Water Birth Association, Dr. I Nyoman Hariyasa Sanjaya, SpOG (KFM), MARS did not deny that in Indonesia the water birth method is still the pros and cons.According to him, this is because not many scientific research conducted to study further about plus minus water birth.
"In Indonesia to read the source without observation alone can be found. It should test first, then allowed to remove opinions. I practice water birth since 2007, I collect the data itself. Of the 125 patients water birth which I signed, nothing Drown (infant drowned-ed), "he told detikHealth.
Nevertheless, he asserted that he did not want to make a water birth as a major engineering labor.Mechanical water birth is only one of the alternatives that could have a mother, if you want to lose her labor pains.
"We need to straighten up, let's make a joint review. So that there is no clarity and no benefit, do not let the pros and cons and so the confusion in the community. If the need created working group on POGI to explore methods to overcome labor pain, examined, after which remove decisions , "said the doctor who lives in Denpasar, Bali.
By doing so, he also hopes the curriculum and technology and research in the field of medicine Indonesia can continue to grow.In addition if it is joint study, mothers who want to give birth by this method also feel calmer.