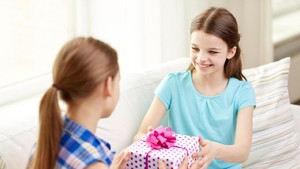 Jakarta- On Valentine's Day, it is quite possible some kids who want to give a gift to friends.For example, chocolate as a form of expression of affection.Well, if the child wants to do it, how well parents respond?
Child and adolescent psychologist from RaQQi – Human Development & Learning Center, Ruth Zulhaqqi say is the meaning of Valentine's Day again on the values ​​prevailing in the family.But, it could be a parent telling a child that loves friends need not just on Valentine's Day alone.
"If as a form of affection, this is the title a matter of friendship. We can teach the child that in order to show compassion to a friend not necessarily with symbolic chocolate. Could not hurt her friend, friends with everyone else, and continue to share with a friend that was enough as form of affection to a friend anyway, "Ruth said when talking withdetikHealth.
But, if a child wanted to give gifts to friends, occasionally parents may be able to 'grant'.However, says Ruth should also be explained to children that Valentine concept itself is not the culture of Indonesia.In other words, the child can be directed that in order to love others not necessarily wait for a certain day.
See also: Kids Could not Say 'dear' to his mother's father, Why Ya?
When kids want to buy something for her, to be asked to whom the gift was.Thus, the need for parents to communicate with children.If it is a form of sign of love for the girl friend has a crush on the premises, it depends on the value of existing back in the family.
Therefore, their fair Ratih said if teenagers became interested in the opposite sex.But, to be dating or not it certainly back on the value of the applied parents at home.
"But of course if by age, eg SD so not cocoklah hanky-panky, no restrictions milestone in every child's development. If it turns out the child want to give a gift as it went along a friend wrote, children need to be educated and edukasinya depends again to a value that is applied parents , "added the owner of this @ratihyepe twitter account.
Especially teenagers, according to Ruth indeed generally they will tend to follow her because they need conformity or recognition.Well, it can be obtained recognition of one of them if they do the same thing with a friend in her social sphere.