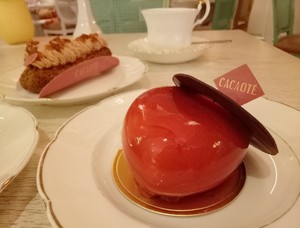 Jakarta- On Valentine's Day, you can come as a couple to this cafe.There is a delicious sweet dessert for tea together.
Cacaote located in Senopati, South Jakarta is not only has delicious chocolate pralines.You could also try 15 flavors of cake with unique flavors.
There are three types of cake into the cake Cacaote mainstay since its foundation.Starting from Cacaote, Dark Chocolate and Hazelnut and Salted Caramel Eclair.
Photo: detikfood"Chocolate cake named Cacaote has seven layers. There are chocolate sable, praline cream, sticky caramelised nuts, chocolate sponge, dark chocolate cream, dark chocolate mousse and chocolate glaze," said Darryl Iswaratioso, executive pastry chef Cacaote (10/02).
Cacaote has a soft texture with a suitable sweet taste sensation accompanied by sips of hot tea.Very fitting for you who loved the cake with dark chocolate flavor legit.
In contrast to Cacaote, Salted Caramel Eclair it has a crunchy texture."What distinguishes this eclair with others, we use a crunchy biscuit on top eclair itself. So the surface a little rough," adds Darryl.
Choux pastry filled with salted caramel cream, salted caramel hours, almond and caramel chantilly.Legit smooth in the mouth.
Photo: detikfoodIf you want a cake with a beautiful heart shape, you can choose the Raspberry and Vanilla.Vanilla jaconde with little compout layer of green apple, vanilla brulee match coincided with raspberry mousse and sprinkled with raspberry glaze.
The price offered for a slice of delicious cake is priced at around Rp 40,000 to Rp 55,000.